Rakeback policy changes at Cereus, Victory Poker to join network
Poker Rakeback
Tuesday, 29 March 2011 12:10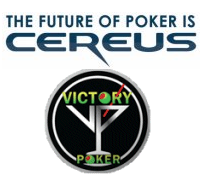 Victory Poker is joinging the Cereus Network (Absolute Poker and Ultimate Bet) which is prompting some rakeback policy changes on the network as a whole. Effective immediately only the first account created on the Cereus Poker Network can be a rakeback account. A second account created on or after March 25th, 2011 will no longer be eligible for rakeback. While you can still have an account at Absolute Poker, Ultimate Bet and Victory Poker (when it moves), only the first one is eligible to have rakeback.
Example: If a player already has an Absolute Poker account that was created in 2010 and they attempt to create a UB account as of today, the UB account will not be eligible for rakeback – regardless of whether or not their first account has rakeback. However players with two existing Cereus Poker rakeback accounts that were created on or before March 25th, 2011 are not affected by the change.
Players can attempt to grandfather themselves in by signing up for Rakeback at Victory Poker while it's still on the Cake Network (provided you don't have a Cake Poker rakeback account) and see if the account is transferred as a rakeback account when the Victory Poker move to Cereus is complete.